May 5, 2016: Certified Food Protection Manager CertificationTraining (via video conference) & Exam (computer-based test)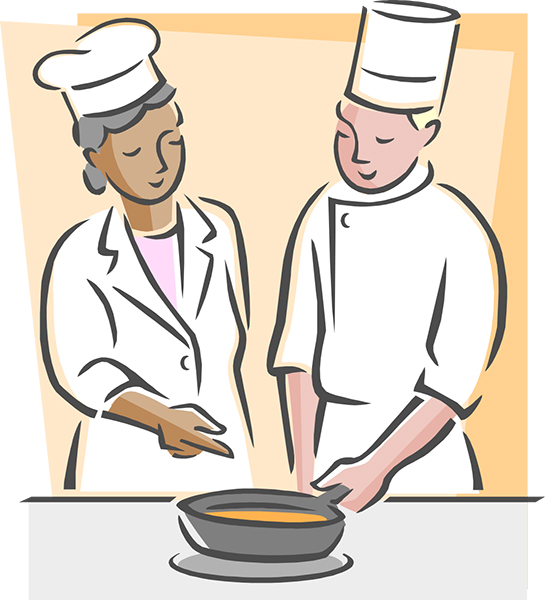 Date:
Thursday, May 5, 2016
Time:
8:30 a.m. to 5:00 p.m. (with a ½-hour lunch break)
Locations:
Haines: Haines Borough Public Library, 111 3rd Ave
Valdez: Valdez Public Library
Skagway: Skagway Public Library, 769 State Street
Fairbanks: Tanana District Office, 724 27th Ave., Suites 1 & 2
Juneau: UAS, in Egan Wing, room 113
Palmer: Matanuska Experiment Farm, Kerttula Hall Room 208
Sitka: UAS Sitka Campus, Room 110
Cost:
$200 (includes class, study guide and one proctored test)
Registration Deadline:
April 18th.
NOTE:
This class is taught in English. For book/tests in Korean, Chinese or Spanish, call Julie at 907-745-3360 three weeks before class date to arrange.
Please contact Melissa Clampitt for the code to register for this course at 907-745-3360 or mrclampitt@alaska.edu
What is a certified food protection manager?
A certified food protection manager (CFPM) is knowledgeable about food safety practices. A CFPM uses this knowledge to provide consumers with safe food, protect public health and prevent foodborne illnesses. Alaska regulations require food establishments to have at least one CFPM on staff.

How do I become certified?
After completing this one-day training a CFPM certification exam must be taken under a proctor, and passed to become a Certified Food Protection Manager. Testing for this certification is computer-based. Studying ahead is helpful in being prepared fro this class and exam. Books will be mailed within three business days of paid registration. Registration is closed 15 days prior to class. Exams must be taken within one week after the class.
Cancellation Policy: 100% refund will be made to the payer if the training book has not yet been mailed to the participant. If cancellation is requested in writing for this program up to 15 days prior to the class, a partial amount will be refunded. When the original sealed new CFPM book is returned to 1509 S. Georgeson, Palmer, AK, $185 will be refunded. $15 will not be returned for costs. If the book has been opened from it's sealing and/or not returned only $115 will be refunded. No refunds will be given 15 days prior to class.

---
Information on the registration process:
When entering credit card information enter numbers only with no spaces or dashes. Card will be charged in US funds at time of registration. You will receive an e-mail confirmation of your order/registration. If you do not, you have not successfully registered.

When registering you will be asked for the registrant's information as well as for contact/cardholder & billing information.

You may "Register" as a User for the site or you can select "Continue Unregistered" when prompted. If you register as a user, the system will save your contact/cardholder billing information for future registrations/purchases.

The transaction will show on your credit card statement as: UAF SNRAS WEB - FAIRBANKS, AK.

Select Workshop: ADD TO CART ● Enter your information, press CONTINUE button (You will see summary of items in Shopping Cart) ● press CHECKOUT button or CONTINUE SHOPPING to add another workshop/class ● when you are ready press CHECKOUT ● enter your information using the cardholders address ● press CONTINUE UNREGISTERED ● enter credit card information and check the box "Use current delivery address as billing address" ● press CONTINUE ● press SUBMIT ORDER